The Hon Tony Staley AO — Independent Chairman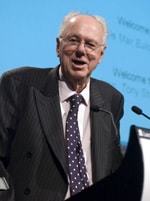 Tony Staley has been the Independent Chair of the CRCA since 1997.
Members of the Board
The Association is governed by a Board of Member CEOs, which comprises a representative from each of the industry sectors covered by CRC Program activities.  Each of the six sectors elect their own representative at the Annual General Meeting which is held at the time of the National Conference.  There  are also alternate committee members for each sector.
The Deputy is elected directly by the CRC Membership.  The Treasurer is a member of the Committee and appointed by it.
Board members for 2017-2018
Professor Valerie Linton, Energy Pipeline CRC (Deputy Chair) (Energy Sector)
Ms Kellie Dyer, Rail Innovation CRC (Legacy), (Treasurer)
Mr David Chuter, Innovative Manufacturing CRC (Manufacturing Sector)
Dr Sanjay Mazumdar, Data to Decisions CRC (ICT, Social and Economic Sector)
Professor Richard Hillis, Deep Exploration Technologies CRC (Mining and Infrastructure Sector)
Dr Michael Robinson, Plant Biosecurity CRC (Agriculture Sector)
Dr Richard Thornton, Bushfires and Natural Hazards CRC (Environmental Services Sector)
Professor Ian Cooke, CRC for Mental Health  (Medical Services Sector)
Ms Louise Fleck, Director, Research Office Macquarie University (Representing Supporting Members)